Fox vs King: 2.0 Coilover Shock Comparison
Contrary to popular belief, the differences between Fox 2.0 Remote Reservoir Coilovers and King 2.0 Remote Reservoir Coilovers run much deeper than the color of their anodizing.  In order to provide you a full comparison we have evaluated the real world performance and durability of each coilover to help you decide which is right for you.  For our comparison we used a Fox 2.0 x 14″ Travel Factory Series Remote Reservoir Coilover and a King 2.0 x 14″ Travel Performance Series Remote Reservoir Coilover.  These are two of the most popular off-road shocks we sell.
External:
Externally there are some significant differences which impact value, appearance and durability.  Both shocks use 1/2″ ID COM-8T teflon lined bearings, plastic dual rate sliders, aluminum remote reservoirs and anodized aluminum caps.  The differences begin with the reservoir hose, Fox uses a -8 stainless steel braided hose and King uses a -8 cloth wrapped hose.  Fox 2.0 Coilovers also include remote reservoir mounts which are not included with King coilovers.
Durability:
In order to analyze durability we will assess the quality of the components used in the shocks.  Shocks can fail quickly due to damaged piston rods and seals, or over the long term due to seal wear and dirt intrusion.  The piston rod, seals, and oil are the key components which dictate a shocks durability.
Piston Rods:
There is a substantial difference in the quality of the piston rods used in Fox and King coilovers.  Fox 2.0 Factory Series coilovers use a 17-4 H900 stainless steel piston rods with hard chrome plating.  Fox stainless steel piston rods are very corrosion resistant and extremely strong at 190 ksi of tensile strength.  King 2.0 Performance Series coilovers use 1040-1060 high carbon steel piston rods with hard chrome plating and are NOT heat treated for surface hardness.
Piston rod hardness is also very important to consider.  Rockwell hardness is measured by pressing a ball into the material at a preset force, and measuring the depth of deformation.  This very closely mimics flying rock debris and the amount of damage it may cause to the piston rod.  Damaged piston rods are the leading cause of shock failure, harder rods are more resistant to rock debris and therefore offer substantial durability advantages.  Half the hardness means half the durability. Results from 3rd party Rockwell Hardness Testing:
Fox: 45 HRc
Sway-A-Way: 32 HRc
King: 23 HRc
[layerslider id="13″]
Seals:
Seals are responsible for keeping the oil inside the shock across harsh conditions without contributing large amounts of friction.  Fox 2.0 Factory Series coilover shocks come with viton seals, viton is the benchmark material for high temperature and low friction seals. King 2.0 Performance Series coilovers use industry standard Buna seals which provide excellent sealing, and viton seals are available as an optional upgrade.  From the outside in, Fox uses a heavy duty wiper, then a u-cup with a secondary wiper lip, and finally a viton o-ring.  King uses a heavy duty wiper, u-cup and o-ring seal.  Fox's use of the u-cup with secondary wiper offers extra protection against dirt intrusion in order to help the shocks last longer.
Oil:
Oil is responsible for providing consistent damping across a range of temperatures, conveying heat, and lubricating the seals.  When oil breaks down shock failure isn't far behind.  Fox shocks use a conventional oil rated by the manufacturer for use from -65 to 275 F and has a viscosity index of 370 (more on this below).  King shocks use a conventional oil rated for use by the manufacturer from 14 to 230 F with a viscosity index of 150.  It is common for oils to operate outside their rated range in shock absorbers due to the unique nature of the application (Fox rates their oil up to 400F).  Fox oil offers substantially better lubrication across a wide range of temperatures based on the manufacturer ratings. Viscosity index (VI) is a measure of how much the damping will fade due to heat.  Fox's VI of 370 is very high and provides exceptional performance.  King's VI of 150 is an average rating.
Performance:
Friction
Friction is the most important thing to manage in a shock, especially for vehicles with low weight and shocks mounted near a 1:1 motion ratio.  Higher friction is correlated to increased suspension harshness and reduced durability so managing friction is priority one for a shock engineer.  In some tunes, particularly those with flutter stacks, it is possible for friction to be more than 10% of the damping at low speeds.
Rebound Damping:
Low speed rebound damping impacts handling and harshness while high speed rebound impacts control through whoops.  Fox 2.0 Coilovers use 2 x .070″ bleed holes and King 2.0 Coilovers use 3 x .056″ bleed holes, despite these differences performance between the two is relatively similar.  Fox uses a smaller diameter (1.425″) rebound disk than King (1.50″) without any differences in performance.  On compression Fox uses a 1.60″ diameter disk which appears to limit port inlet flow more than King (1.50″ diameter), however rebound speeds are generally very low when compared to compression and the low flow path does not impact performance.  Both Fox 2.0 Coilovers and King 2.0 Coilovers offer excellent rebound damping, particularly for lighter vehicles.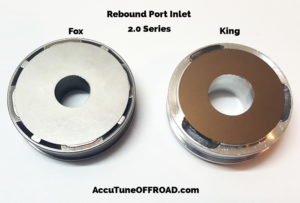 Compression Damping:
It is important for off-road shocks to provide a linear damping curve and to have very little hysterisis in the curve.  Linear damping with pyramid stacks (decreasing OD through stack) gives control of the damping curve to the shock tuner to build progressive rate flutter stacks for improved feel over small bumps and hard hits.  Both Fox 2.0 Coilover Shocks and King 2.0 Remote Reservoir Coilovers provide good, linear, consistent damping as you would expect from a high quality race shock.  In the graph below, the shock starts making 40 lbs of force at 0 IPS (left side, top lines), and increases to 520 lb of force before slowing back down to 0 IPS and making -5 lb of force.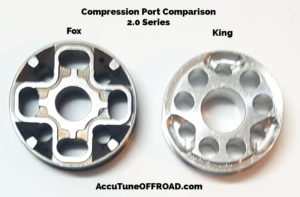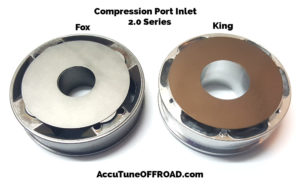 It is important for shocks to resists cavitating on high speed events because cavitation leads to a loss in control and can damage the shock.  Cavitation is a function of remote reservoir ID and nitrogen pressure.  Fox 2.0 Coilovers and King 2.0 Coilovers have nearly the same ID (1.813 vs 1.750, respectively) but Fox recommends 200 psi and King recommends 150 psi.  The increased pressure in 2.0 Fox coilovers results in improved resistance to cavitation.  It is possible to run higher pressure in 2.0 King coilovers but higher pressures increase friction and seal wear.
 [layerslider id="13″]
Factory Tuning Limitations
While both pistons are capable of providing excellent performance King has limited tuning options. King will only build a pyramid stack (decreasing OD through stack) and add one flutter disk. While a single flutter disk is industry standard, and we used to tune that way (and still do in the rare instance it delivers the desired performance), we've found that a single flutter disks does not give you full control of the damping curve. We now use AccuTune double flutter stacks which deliver vastly superior comfort on small bumps and more speed in the whoops. As a result we pull apart every King shock and re-valve it in house. Fox's stock valving is considerably worse than King's stock valving, however Fox will valve shocks however we'd like.
Summary:
Fox and King both build race quality 2.0 remote reservoir coilovers whose performance and durability will exceed that of a conventional sealed monotube, but Fox really goes the extra mile to deliver a highly durable shock.  From the piston rod, to the seals, to the oil, Fox delivers superior short term and long term durability.  When it comes to valving neither Fox 2.0 Coilovers nor King 2.0 Coilovers deliver optimal performance without being re-valved. Whether you're working on a daily driver or hardcore race truck, we can help you select the right shocks and set you up with the right springs and valving to get the most out of your Fox 2.0 Coilover shocks or King 2.0 Coilovers shocks.
Related Fox and King 2.0 Coilovers: